News Article:
WMRs supports reasonable pricing within the veterinary industry!
19th November 2018
A controversial model of pet insurance lives on in Britain
Three years in, insurer's 'preferred' network of specialists has grown
November 14, 2018
By: Ross Kelly
For The VIN News Service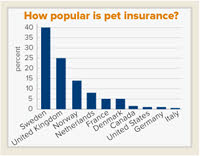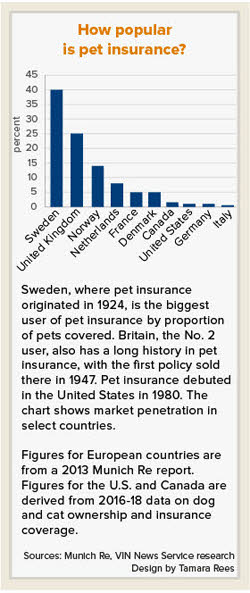 U.K. insurance giant RSA Insurance Group shook the veterinary world in January 2016 when it launched a preferred referral network for pet coverage.
Some practitioners feared sick animals would be funneled through a handful of participating practices, regardless of whether those practices offered adequate standards of care. Even the British tabloid press weighed in with concerns.
The Daily Mail, in an article published in March of that year, reported that critics claimed "much-loved pets" were being "treated like cars in a crash where insurance firms seek out the cheapest garage for repairs."
Eight British veterinary practices were so alarmed, they formed Vets for Choice, a lobby group devoted to fighting the proliferation of the "in-network, out-of-network" model in pet insurance.
Today, almost three years later, RSA's network of participating practices has grown. There are now 63 on its "preferred" list, up from 28 in 2016, and the company is open to adding more. (What proportion of veterinary referral hospitals are in the network is unclear; the Royal College of Veterinary Surgeons (RCVS), Britain's chief regulator of the profession, was unable to immediately provide a total number of referral hospitals in the UK.)
The negative newspaper headlines have disappeared, and Vets for Choice no longer is active. The VIN News Service was unable to reach members of the defunct group.
RSA's director of pet claims, Andrew Moore, said, "It's going very well. Customer feedback is excellent and the partnership really works, delivering a great service for our customers and helping to control costs."
The model leverages economies of scale to keep costs down. The idea is that participating practices provide discounted pricing and the lost revenue is offset by their getting more business brought to their doors. They also can bill RSA directly. Pet owners insured by RSA who opt for a specialist outside the network have to pay £200 (US$259) toward the practice bill themselves, on top of any charges not covered by their policy. (Those excess charges vary depending on policy type purchased.)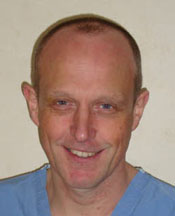 Photo courtesy of West Midlands Referrals
Dr. Jon Mills
"They are easy to work with and we are very pleased with the relationship," said Dr. Jon Mills, co-owner of West Midlands Referrals in Staffordshire, a surgery practice that joined the RSA network when it was established in 2016.
"We think it long overdue that some of the insurance companies put down a marker that they aren't simply a bottomless pit for referral practices to have runaway inflationary prices," Mills said. He said his practice's prices for cruciate surgeries, fracture fixations and cataracts are about ⅓ to ½ of those being charged elsewhere.
To be sure, opinions remain diverse on whether all of the practices in RSA's network can necessarily provide animals with the best possible care. Some in the profession also are concerned that practices outside the network might struggle to compete against the lower prices offered by their RSA-partnered rivals.
Network model hasn't caught on
RSA, formerly named Royal & Sun Alliance, is the U.K.'s second-biggest pet insurer behind Allianz-owned PetPlan. RSA coverage is sold by big retail chains, including supermarket giant Tesco and department store John Lewis.
Its "in-network" model hasn't been adopted by rivals to date. PetPlan acknowledged it as an option but "not the ideal one," according to its head of sales and partnerships James Barnes. "Placing controls on care and effectively taking the decision out of pet owners' hands, we believe, is not the answer," he said.
Direct Line's head of pet insurance, Prit Powar, was equally dismissive. "We understand how important our customers' pets are to them and it is important to give them freedom of choice," she said. "We trust their vets to direct them to the appropriate specialist vet when this is required."
The U.K.'s newest market entrant, CVS Group — which is Britain's biggest owner of veterinary practices — last year launched an in-house insurance product called MiPet, which is distributed through its 490 practices. However, CVS's head of insurance Simon Morrall said, customers may claim for procedures performed at clinics not affiliated with CVS if they wish.
Across the Atlantic, no U.S. insurers appear to have adopted the in-network model, either, according to Dr. Carol McConnell, vice president and chief veterinary officer at Nationwide, America's biggest pet insurer.
One U.S. company, Pet Assure, has been since 1995 directing clients toward a preferred practice list. However, Pet Assure is not an insurance company per se. Rather, it offers customers a discount on procedures if they pay a membership fee of around $10 per month.
'A load of twaddle'
As for concerns about the quality of practitioners on RSA's list, many agree that those were overstated in 2016, at least by the tabloid press.
"It was a load of twaddle," said Mills at West Midlands Referral, who also believes RSA's list offers a "wide range" of choice.
"We know what we know, we know what we don't know, and we know the difference," he said. "It is patently not in our interests to take cases that would be better served by a multidisciplinary center. We proactively redirect such cases, usually before we've even seen them."
Dr. Gudrun Ravetz, chief veterinary officer at Simply Health Professionals in Winchester, and past president of the British Veterinary Association (BVA), noted that all of the specialist practices on RSA's list are fully accredited by the RCVS.
Still, she said, some BVA members didn't like the idea of losing control. The most appropriate referral, she said, could be based on a range of factors, including how close a practice is to the customer, its hours of operation or perhaps a personal preference for the people who work there.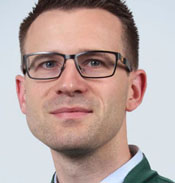 Photo courtesy of Willows Veterinary Centre and Referral Service
Dr. Andrew Kent
And some practitioners still wonder whether RSA's list is comprehensive enough to span the range of needs for specialist care. Among them is Dr. Andrew Kent, a specialist in small animal medicine at the Willows Veterinary Center and Referral Service, which is not part of the RSA network.
Kent, who is located in England's West Midlands, said many practices could be concerned about limiting client choice, while also perhaps being reluctant to offer the across-the-board discounts on procedures required to get onto RSA's list.
"Ultimately, the market is better driven by client experience and people wanting to go to places where there's the right expertise and where they got good service in the past — rather than being directed by their insurance company," he said.
Differing levels of specialist training

Kent acknowledged that practices on RSA's list are RCVS-accredited. Even so, he said, there are higher levels of specialist accreditation that aren't mandated by RSA.
"A lot of people, if they're referring, want to refer to centers that are actually specialists with diplomas from the top European and American colleges," he said.
"There is this tier down of specialization in the U.K. that are RCVS certificates or post-graduate certificates," Kent explained. "The training in those qualifications is not quite as rigorous as [that obtained by] people who are true specialists."
The RCVS recognizes two levels of advanced training: advanced practitioners have up-to-date knowledge and experience in a particular area of practice beyond their initial veterinary degree. Those with specialist status, by comparison, "must have achieved a postgraduate qualification at least at Diploma level, and must additionally satisfy the RCVS that they make an active contribution to their specialty, have national and international acclaim and publish widely in their field." Maintaining specialist status requires a renewed application every five years.
Another practice that elected to join RSA's network, Eye Veterinary Clinic in Marlbrook, Herefordshire, houses four specialists. Its director, Dr. Christine Heinrich, acknowledged that RSA's list contains a mix of specialists and advanced practitioners.
"We're probably one of the few places that purely has specialists now," she said. "But to be honest, it's not realistic that the whole referral market is purely populated by specialists — geographically and financially."
Heinrich said many practices with less-trained surgeons could still offer a good-quality service, and at much cheaper rates than rivals with star specialists.
"Some referral centers out there are just like the gold-plated private hospitals, and the job that they do is amazing," she said. "But the costs spiral."
RSA's Moore said that if a referral veterinarian on its network can't offer the capability or specialist care that a pet needs, primary-care veterinarians may refer outside of the network. But their client will still have to pay the extra £200 (US$259).
"We do ask that the vet or customer gives us a call so we can better understand the requirement," Moore added. "This means that we are able to constantly review our network in terms of capability and coverage so we can best meet our customers' and their pets' needs."
Recent growth in the RSA network is putting its policyholders physically closer to participating veterinarians. Moore said its 63 participating practices are within a 90-minute drive of about 90 percent of its customers, and within a 60-minute drive of about 80 percent of its customers.
Heinrich said she initially was apprehensive about joining RSA's network, but has found working with the company to be agreeable. Access to its shared database, she said, made it easy to check what level of insurance patients have. The practice also is paid very quickly for direct claims, she said.
Heinrich declined to specify the level of discounts her practice gives to be a part of the RSA network. She said only that it offered relatively low prices even before it joined.
Feeling pressure to discount
Practices not on the network, such as Willows, haven't avoided having to cut prices. Kent says Willows offers its customers £200 (US$259) in compensation for the extra sum that RSA declines to pay when a policyholder uses a practice outside its network.
"I think all the bigger referral centers of our nature have adopted a similar policy, and it is damaging to the profitability of the business," he said.
Willows, with more than 20 specialists across different disciplines, is big enough to hold its own. But for smaller independent practices, offering big discounts could put them under strain.
"The profit margin in our industry is not huge," Kent said. "Anything that puts a squeeze on that at what already is a challenging time for referral centers is something that everybody has to be a little bit worried about."
Ravetz said BVA members had expressed similar concerns. Smaller rural practices could be especially at risk, she said, because they might have an expensive piece of equipment — such as a CT scanner — that's used just two or three times per week.
"It would be priced for a different break-even than in busier practices who use a CT scanner two or three times a day," Ravetz said. "The concern is that if you force a standardization of prices, those practices may have to get rid of their CT scanner, and pets in the area could lose access to that service."
Mills, who supports RSA's model and said he has no ties to the company apart from participating in the referral network, counters that encouraging practices to cut costs may be more of a help than a hindrance to the profession.
Citing his hospital's 33 to 50 percent discounts on procedures, Mills said: "Do the maths. Someone, somewhere is paying an awful lot of money to fund that difference. And ever-escalating insurance premiums and limitations on cover from many insurance providers reflect exactly that problem. So good on RSA for giving our industry a reality check."
While RSA's adoption of a network model hasn't caught on more broadly, its appeal might spread as premiums across the industry rise. The average annual cost of insurance for dogs in the U.K., for instance, increased nearly 7 percent last year to £324 (US$425), according to market data group Mintel.
Advances in technology that are helping pets live longer also can be expensive, pushing up the price of claims — and ultimately premiums.
An ongoing fear in the insurance industry is that customers will be priced out of the market, sapping insurers of the volumes they need to survive.
"To maintain sustainability in the pet insurance market, it was felt there was a need to control costs, and RSA moved to this preferred-provider solution to do that," Ravetz said. At around 25 percent, she said, British pet insurance market penetration rates are relatively high compared with the U.S., where only 1 to 2 percent of dogs and cats have coverage.
However, she noted that penetration rates in the U.K. haven't budged much in recent years and still aren't as high as in Sweden. There, market penetration was reported at 40 percent by the international reinsurance company Munich Re in 2013. More recent estimates of Swedish pet owners' adoption of insurance range up to 85 percent.