Reception and Waiting Area:
Our spacious Reception area caters to both dogs and cats with a separate cat waiting area. We also offer a space for more anxious patients that perhaps benefit to having their own area.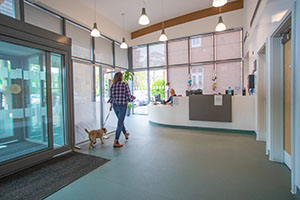 ---
Consulting Rooms:
We have 6 consulting rooms, one which is dedicated just to our feline patients. These rooms allow for a relaxed environment where our clinicians can take the time to perform examinations of our patients and discuss their findings with you.
---
Diagnostic Imaging:
Our hospital is equipped with two X-ray suites, CT facilities and Endoscopy equipment. These provide our Clinicians with the tools to perform investigations on our patients to provide the best possible care.